Noi modalități de certificare OMG
NobleProg, ca membru oficial al OMG, oferă diverse cursuri de pregătire pentru examene OMG din întreaga lume și organizează examenele pentru dvs..
Object Management Group (OMG) introduce modificări majore în cele mai importante căi de certificare. Certificatul OMG Certified UML Professional (OCUP) și Certificatul OMG Certified Expert in BPM Certification (OCEB) sunt înlocuite cu versiuni noi OCUP2 and OCEB2.

OMG Certified UML Professional 2 - OCUP 2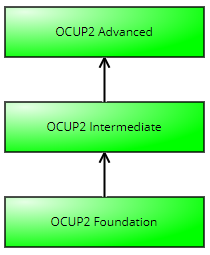 OCUP 2 se bazează pe cea mai nouă versiune a UML 2.5.
Vechiul OCUP a fost complet înlocuit cu OCUP 2.
Examinarea a fost extinsă prin alte subiecte - capitole Why We Model și State Machine Diagram. Noile întrebări sunt orientate mult mai mult spre practica de modelare decât metamodelul UML, așa cum a fost în prima versiune a OCUP.
Materialele disponibile pentru vechea versiune OCUP nu sunt actualizate încă și nu sunt suficiente pentru a trece examenul în noua versiune. Acest lucru a fost confirmat de comentariul directorului OMG ca o revizuire a cărții - Ghidul de certificare UML 2: Fundamental & Intermediate Exams
http://www.amazon.com/review/R2FXZF2FYH0SN3/ref=cm_cr_dp_title?ie=UTF8&ASIN=0123735858&nodeID=283155&store=books

OMG Certified Expert in BPM 2 - OCEB 2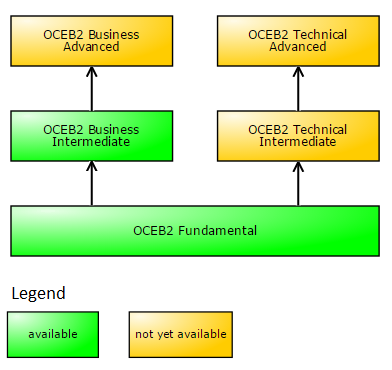 Până acum doar două examene au versiuni noi OCEB 2 Fundamental (OMG-OCEB2-FUND100) and OCEB 2 Business Intermediar (OMG-OCEB2-BUSINT200) - published on 14.11.2014.
Versiuni OCEB2 noi se bazează pe BPMN 2.0. Unele chestiuni au fost înnoite și extinse.
Materialele care acoperă aceste examene:
http://www.omg.org/oceb-2/coveragemap-fund.htm
http://www.omg.org/oceb-2/coveragemap-bus-inter.htm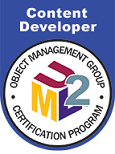 OCUP 2 Content Developer
NobleProg has official OMG OCUP 2 Content Developer status, which means that our course outlines and training materials were developed by the same experts who prepared questions for OCUP 2 exams. Two people from NobleProg team take an active part in the work of OMG, which deals with determining the subjects of OCUP 2 examinations and creating test questions. Our article, Concurrency in UML, was listed by OMG as a part of reference list to prepare for the OCUP 2 Foundation exam.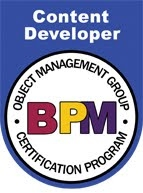 OCEB Content Developer
NobleProg are status OCEB 2 Content Developer oficial OMG,ceea ce înseamnă că schițele cursului și materialele de curs au fost elaborate de aceiași experți care au pregătit întrebări pentru examenele OCEB. Două persoane din echipa NobleProg participă activ la activitatea OMG, care se ocupă cu determinarea subiecților examenelor OCEB 2 și crearea întrebărilor de test.
FAQ
1. O persoană care nu are examen la nivel elementar obținut poate da un examen la nivel intermediar?
Nu. Versiuni superioare ale certificatelor OMG (OCUP2 sau OCEB2) sunt disponibile pentru cei care au trecut deja examene anterioare. (Foundation>Intermediar>Avansat)
2. O persoană care a trecut deja o versiune veche a examenului la nivel elementar poate da o nouă versiune a examenului de nivel intermediar?
Nu. Procesul de examinare trebuie reînceput.